Posted on Thursday, October 21, 2021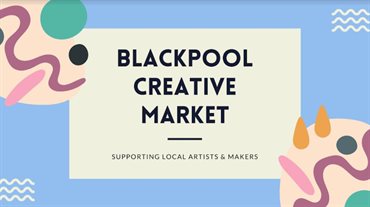 Have a fun day of shopping at Blackpool's Creative Market, with a range of artists and designers based on the Fylde Coast.
Blackpool's Heritage Action Zone (HAZ) cultural program is due to stage its first event on Saturday 23 October, seeing the Winter Gardens (Floral Hall and Adelaide Street foyer) host a range of independent designers, artisans and creatives from across the coast of Fylde!
The first of its kind in Blackpool, the market event, in conjunction with local organization Aunty Social, will bring together over 20 guest artists and designers, offering visitors a chance to purchase unique works of art, household items , fashion and gourmet gifts.
Visitors can explore at their leisure what the talented artists and creators of the Fylde Coast have to offer.
Jessie Crook from sustainable hair accessory maker That Scrunchie Brand says:
"We can't wait to be part of Blackpool's first creative market, we loved meeting other creatives in the nearby markets and it will be very special to be in the town centre. We make scrunchies by hand and look forward to meeting new buyers and showing off our brand new designs.
Natalie Nicholson runs Seamstressed, a company that produces original and colorful handmade children's clothing.
She says:
"I am delighted that Seamstressed is trading on the Blackpool Creative Market. It's great that members of the public can support our fabulous local creators and artists at this event. Plus, it will be a great opportunity to meet like-minded people and maybe even pick up a few pieces for me!
The market is part of Blackpool's Heritage Action Zone project, a partnership between Blackpool Council and Historic England. The project aims to use Blackpool's heritage to attract new and diverse visitors to the town centre, giving it new relevance to local communities and visitors.
This will be a great opportunity to browse stalls filled with hundreds of unique gifts, homewares and artwork at prices to suit every pocket. Shoppers can get a head start on finding Christmas gifts without having to worry about shipping delays; Additionally, they will support local independent artists and businesses that make Blackpool town center unique.

Posted on Thursday, October 21, 2021